Red kite chicks from Northamptonshire released to wild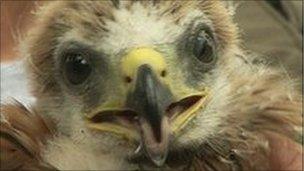 Red kite chicks bred and reared in Northamptonshire have now been released in the Lake District.
The 30 chicks from Rockingham Forest were transported to Cumbria where they were kept in special aviaries before release into the wild.
Since 1995 over 200 chicks have been reared from red kites brought to Rockingham Forest from Spain.
"The red kite breeding programme has flourished," Karl Ivens, the Forestry Commission chief wildlife ranger, said.
"Breeding has been more successful in certain parts of the country and we are incredibly lucky that one of those areas is the Rockingham Forest.
"Being able to breed these beautiful birds and then introduce them to another part of the country is a great way to maintain the future of the species and help the birds to build colonies in new areas," Mr Ivens added.
Related Internet Links
The BBC is not responsible for the content of external sites.