Hospital admissions in Cumbria blamed on 'legal high'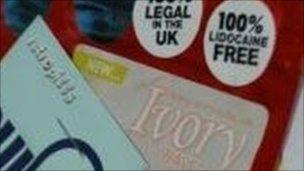 Almost a dozen people have been admitted to hospital in Cumbria in recent weeks after apparently using the "legal high" drug Ivory Wave.
Police and health officials have issued warnings that symptoms are worse than those for the banned drug mephedrone which was linked to a number of deaths.
North Cumbria University Hospitals NHS Trust said most patients suffered extreme agitation and hallucinations.
Police have also warned potential users that they are risking their lives.
A trust spokeswoman said in one incident last week a 17-year-old boy was arrested after allegedly assaulting a hospital worker.
Another five people thought to have taken Ivory Wave were brought into the West Cumberland Hospital in Whitehaven at the weekend, but were later allowed home.
Five others were treated at the same hospital during the previous week.
Dr Kate Wilmer, consultant cardiologist at the hospital, said: "I have never seen anything like it, it is really awful.
"All have had a very fast heart rate so we have been monitoring them in the critical care unit for about 12 hours. The drugs are getting out of their system but it is taking two to three days for the agitation and psychosis to wear off."
Det Insp Jason Robinson of Cumbria Police, added: "These incidents show us that young people in west Cumbria are continuing to put their lives at risk by taking drugs.
"We know that many so-called 'legal highs' often contain class B controlled drugs such as mephedrone and the risks and consequences of getting involved with them are serious."
Related Internet Links
The BBC is not responsible for the content of external sites.