Bodies of UK soldiers repatriated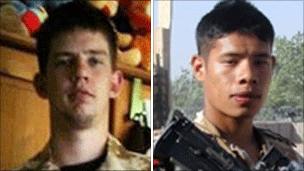 Two soldiers killed in Afghanistan have been flown back to the UK.
Cumbrian Sapper Darren Foster, 20, from 21 Engineer Regiment, died in hospital on 13 August after being shot in the Sangin district of Helmand province.
Nepalese-born Sapper Ishwor Gurung, 21, from 69 Gurkha Field Squadron, 21 Engineer Regiment Group, was shot dead in Nad Ali, Helmand, on the same day.
Their bodies were repatriated to RAF Lyneham in Wiltshire on Thursday afternoon.
Sapper Foster, from Whitehaven, went to Afghanistan on 20 July, supporting 40 Commando Royal Marines in Sangin through a range of construction and combat engineering tasks.
Lt Col Bobby Walton-Knight, of 21 Engineer Regiment Group, said: "He was with the regiment for just three months and in Afghanistan for just three weeks, but in that time he made his mark.
"His motivation, professionalism and his pride marked him out."
Sapper Gurung was helping to build a new sentry post at a base in Nad Ali, Helmand province, when his troop came under insurgent attack.
He was born in Pokhara, Nepal, and had to support his family after his father died when he was 14.
He followed in his father's footsteps to become a soldier, passing selection to become a Gurkha in 2007.
Lt Col Walton-Knight said: "He loved his squadron and he loved soldiering."
Sapper Gurung was on his first operational tour.
Related Internet Links
The BBC is not responsible for the content of external sites.