Lake District monument reopens after £1m revamp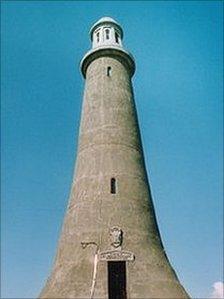 Celebrations are taking place to mark a £1.2m renovation of one of the Lake District's most distinctive monuments.
The Sir John Barrow monument, named after a naval historian, is a 100ft (30.5m) high lighthouse-style building overlooking Ulverston.
The 160-year-old structure - also known as the Hoad - was closed in 2003 due to safety concerns.
On Sunday celebrations were taking place to mark the completion of renovation work funded by lottery cash.
Sir John was born in 1764 and was the second secretary to the Admiralty.
The Grade II-listed structure was built in 1850 in the style of a former Eddystone Lighthouse and stands on Hoad Hill.
The monument has undergone a series of structural improvements, mainly to make it water-tight.
It now also boasts web cams showing views from the top, whilst the interior has a series of panels explaining the monument's history and the life of Sir John Barrow.
Ulverston Town Council spokesman Colin Hodgson said: "We believe the re-opening celebrations will demonstrate the affection with which the Sir John Barrow Monument is held in Ulverston and other parts of the South Lakes.
"Public celebrations marked its opening in 1850 and its centenary in 1950 and it is only fitting that a public celebration should also mark this next milestone in its colourful history."
The monument has survived a lightning strike in 1851, a fire in 1900 and an earth tremor in 2009.
Related Internet Links
The BBC is not responsible for the content of external sites.