Flood water reveals bigger Cockermouth Roman fort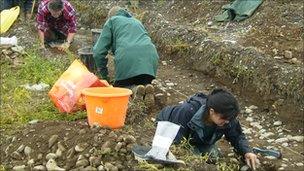 The floods which devastated west Cumbria last November have helped rewrite the area's history by unearthing Roman treasures.
Work began in a field near Papcastle in Cockermouth after the floods in 2009 exposed the remains of a settlement.
The artefacts, including pottery and glassware, are around 1,700 years old meaning the Roman fort on the site was more extensive than experts believed.
Bassenthwaite Reflections, which runs the project, needs dig volunteers.
Lead archaeologist Mark Graham said: "We are unearthing a site of great historical significance.
"It is showing the Roman presence in Cockermouth was far more extensive than was believed with the settlement stretching down to the River Derwent."
RAF and lifeboat crews rescued scores of people from their homes when water levels reached 2.5m (8ft 2in) in Cockermouth town centre during the floods.
Bassenthwaite Reflections is funded by the Heritage Lottery Fund. It is looking for volunteers to help with digs on 26 August and 2 September.
Related Internet Links
The BBC is not responsible for the content of external sites.