'Legal highs' banned at Cumbrian music festival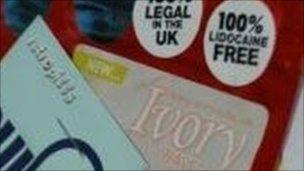 Organisers of a Cumbrian music festival have brought in a ban on so-called "legal highs".
People going to Solfest, which is being held near Silloth over the weekend, are being warned there will be a crackdown on the sale of such substances.
Last week it emerged 11 people had been admitted to a Cumbrian hospital after apparently using the "legal high" Ivory Wave.
Organisers said anyone caught selling the substances would be asked to leave.
Solfest director Simon Kay said: "Our policy at Solfest is very much that we want people to have a good time at our festival not a bad time. We want people to have a safe time.
"So we have taken the decision that irrespective of the legal status of drugs, if they are dangerous then we will not be allowing people to bring them on site to sell them."
He said they would be using mystery shoppers to keep track of what was going on.
He said: "If we come across or receive intelligence that anyone is selling any of these things we will be asking them to leave immediately."
North Cumbria University Hospitals NHS Trust said 11 people had been treated at West Cumberland Hospital in Whitehaven after taking Ivory Wave in recent weeks.
Staff at the trust and police have issued warnings that symptoms are worse than those for the banned drug mephedrone which was linked to a number of deaths.
Among the symptoms are extreme agitation, hallucinations and fast heart rates.
Related Internet Links
The BBC is not responsible for the content of external sites.