New Workington bridge plan put before public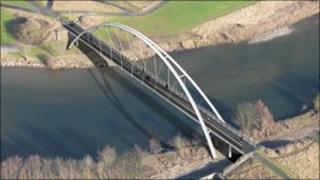 Plans for the replacement of a bridge destroyed by floods in Cumbria are being put before the public.
Workington's Navvies Bridge was damaged beyond repair by flood water last November.
Cumbria County Council has submitted a proposal for a bow-arch crossing to carry both pedestrians and cyclists across the River Derwent.
The plan has been released ahead of two public information sessions.
The design follows consultation with residents and local stakeholders at two "Workington Connected" events in May.
Two public meetings in the town, on 21 and 22 September, will discuss both the new Navvies bridge and a permanent replacement for Northside Bridge, which collapsed during the floods claiming the life of a police officer, Pc Bill Barker.
A temporary road bridge opened in April.
Councillor Tony Markley, cabinet member for highways and economic development, said: "The plans that have been put in have taken on board the comments and input local people gave us back in May.
"The proposal really is for a structure that will show how the town and its people have recovered from the floods."