Zebra joy after Cumbria animal park appeals for mate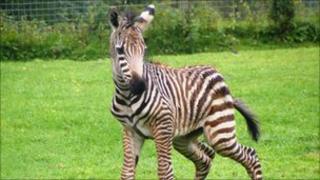 An animal park in Cumbria has been celebrating the birth of its first zebra foal.
Trotters World of Animals, near Bassenthwaite Lake, began an appeal in 2009 to find a mate for its two female zebras, Whinney and Kei.
Adverts were placed in specialist magazines, and Port Lympne Wild Animal Park in Kent lent their stallion, Leon.
He successfully hit it off with Whinney and their as yet, un-named, male foal was born at the park.
The foal is a Grant Zebra, one of the first of its kind to be born in the north of England.
Mr Robinson said: "It is the first time we have had a zebra foal at the park so we have been on tenterhooks for over a month.
"It was quite exciting to see him eventually arrive and survive the first couple of days."