Campaign to rescue former opera house in Workington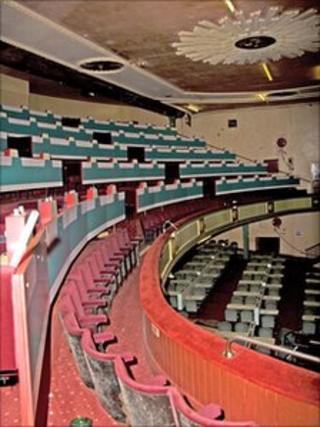 A campaign has been started to save a former opera house threatened with demolition in Cumbria.
Workington's opera house opened in 1888 and was last used as a bingo hall before closing in 2000.
A group wants to preserve the site and reopen it as an entertainment venue with the backing of the Theatres Trust.
But Allerdale Council says the building has "little or no architectural value" and has provisionally approved plans to turn the site into shops and flats.
A final decision on the planning application by Graves (Cumberland) Ltd, which owns the site, has been deferred pending a study of bats which have occupied the building.
The campaign to save the site, which can hold 2,000 people, has also received the backing of renowned opera singer Rosalind Plowright, who urged officials to allow the building to be renovated.
A spokesman for the Theatres Trust said: "There is strong local support for the revival of the opera house. Demand for theatrical facilities in Workington also currently outstrips supply.
"It is vital that the views and requirements of the local community are taken into account in the decision making process.
"Although it has not operated as a performance venue for some time, it is well located within the town centre and has an extensive seating capacity."
An Allerdale Council spokesman said: "On balance, the loss of the building and its current use is acceptable.
"The building is not protected in planning terms and the redevelopment is seen as an appropriate re-use of the site."