Repairs for flood-hit footpaths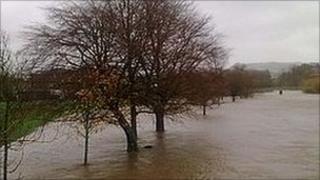 More than £3m is to be spent on restoring Cumbria's flood-damaged rights of way.
Miles of footpaths and 253 bridges were destroyed or damaged by floodwater in November 2009. Gates, stiles and signs will also have to be replaced.
A four-year plan has been drawn up by Cumbria County Council and the Lake District National Park Authority.
The Rural Development Programme for England and Defra are providing £1.3m for the first phase of the work.
Cumbria County Council has about 4,666 miles (7,500 km) of footpaths, bridleways and byways.
Dylan Jackman, from the authority, said priority had been given to making sure residents were able to get on with their lives and there was minimal impact on the local economy and tourist industry.
Local materials
He added: "An enormous amount of work has gone into surveying the damage and we are very grateful that external funding is now allowing us to get to grips with this difficult and costly operation.
"We are also determined to carry out the work in ways that will lessen the effects of future extreme weather.
"In particular, we will be looking at methods which will give us some flood resilience.
He added: "Wherever possible, we will be using local materials and contractors, when needed.
"We know there is urgency from both residents and visitors to restore the rights of way that form a vital part of our world renowned landscape."