Cumbria Roman helmet appeal donations pour in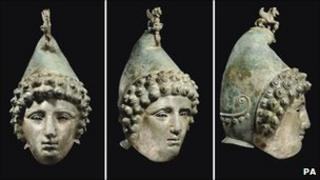 Hundreds of pounds a day is being donated to an appeal to keep a rare Roman bronze helmet in Cumbria.
The helmet, complete with face mask, was found by a metal detector enthusiast in Crosby Garrett, near Kirkby Stephen, in May.
It is due to be sold at auction and is expected to fetch more than £300,000.
An appeal to buy it for Carlisle's Tullie House Museum stands at £25,000 and it said it is currently receiving more than £600 a day in donations.
Carlisle MP John Stevenson said he believes the helmet would mean a major tourism boost.
'Huge attraction'
He said: "I think it is a very significant find and the potential for Carlisle and Cumbria is enormous.
"I think it is extremely important if at all possible that we do retain it here."
He said he believed the helmet could become the face of Tullie House in the future.
"It would be a huge attraction for tourism and could benefit us economically as well as culturally," he said.
The helmet is believed to be one of only three of its kind to be found in Britain.
The treasure hunter who found it has asked to remain anonymous.
It will be sold at auction at Christie's next month.