Talks to be held over policing of Appleby Horse Fair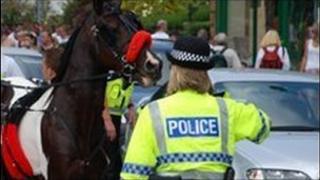 Talks are to be held over the future policing and organisation of the Appleby Horse Fair in Cumbria.
Thousands of people attend the annual event, which is billed as one of Europe's largest gatherings of Gypsies and travellers.
But a report into the 2010 event in June has concluded that organisers and police failed to balance the needs of the different communities involved.
Some travellers complained of heavy-handed tactics by the police.
Overall, the report, by the Multi-Agency Strategic Co-ordinating Group (MASCG), which includes local councils and the police, said the event was a success.
The number of arrests fell by about 50% on the previous year and local residents praised policing efforts.
'Considerable concern'
But MASCG chairman Kevin Douglas, said: "Operational planning for Appleby Fair is challenging and seeks to balance the needs of the different communities involved.
"Clearly this year we did not totally achieve that aim.
"Whilst we received good feedback about the transit sites arrangements, there was considerable concern amongst Gypsies and travellers about the policing and licensing arrangements, which lead to a protest march.
"We are seeking to address these issues by arranging a meeting with the various public agencies and Gypsy and travellers representatives."
Cumbria's assistant chief constable, Jerry Graham, added: "We try exceptionally hard to ensure that we address the needs of everybody, but balancing the very different needs of local residents and Gypsies and travellers is difficult.
"I'm pleased to see that so many local residents were happy with the policing of the fair, but it is disappointing to see that many Gypsies and travellers were dissatisfied."