Greyhound's blood saves terrier in Cumbria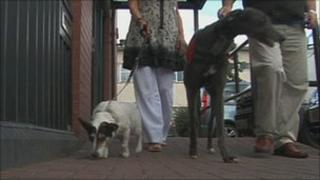 A rescue greyhound saved the life of a seriously ill terrier when it provided a blood transfusion.
Immediate action was needed when Bam Bam was struck down by a blood disease.
Vets in Carlisle called on the help of Dumfriesshire and Cumbria Greyhound Rescue, which provided its dog Blue.
The transfusion was carried out and vets said Blue had saved Bam Bam's life. His owner said it had given him a fresh chance and she was hoping he will recover fully.
Graham Hill, from the charity, said greyhounds were particularly suitable to give blood because they have very little fat, making it easier to get to their blood vessels, and they are easy-going.
The charity is looking for a home for Blue.
Act quickly
Bam Bam's owner Cynthia Brecken said: "It has given our Bam Bam a new chance of life.
"We don't know if it is working yet. We have still to test his own blood in a week's time but up till now everything is looking good so we are just hoping and keeping our fingers crossed."
Vet Vicki Parker said Blue had saved Bam Bam's life. She said the transfusion had been carried out despite vets not being able to check whether the blood of the two dogs matched.
She said: "Bam Bam didn't really have much time. He was so seriously ill that we needed to do it as quickly as possible. And that's why we decided to go ahead without matching them."