'Low morale' over job cut fears at Cumbria hospitals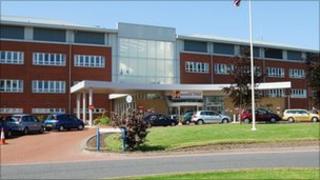 Unions representing staff at hospitals in north Cumbria have said that fear over job losses is affecting morale.
They are warning that nurses, cleaners, catering and admin staff posts are at risk as the NHS Trust aims to make multimillion-pound savings.
A Unison spokesman said staff at Cumberland Infirmary felt they were not being consulted and were "undervalued".
The hospital's director of nursing said it was talking to staff and it hoped to avoid compulsory redundancies.
'Fully understand'
North Cumbria Hospital's University Trust is in the process of identifying savings of £21m.
Sean Gibson, from Unison, said: "Staff feel very undervalued.
"They don't feel they have been consulted in the processes taking place around them and there are job cuts hanging over their heads."
Sandy Brown, director of nursing at the Cumberland Infirmary, said the trust was communicating with staff in a variety of ways, including meetings, roadshows and visits by the chief executive.
He said: "We fully understand that staff are anxious, but we are committed to achieving our cost improvements, hopefully without losing anybody through compulsory redundancy."