Rare tiger arrival surprises Cumbria animal park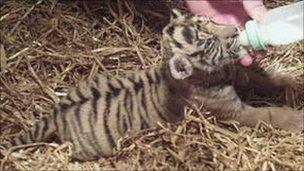 A wildlife park in Cumbria is celebrating after a rare tiger cub arrived "out of the blue".
The Sumatran tiger cub, Kadi, is being hand-reared at the South Lakes Wild Animal Park in Dalton-in-Furness.
Staff were delighted because they have been trying to breed the tigers since 1996 and were not certain that the mother, Alisha, was pregnant.
The Sumatran is the most endangered tiger subspecies, with only about 400 left in the wild, and 250 in captivity.
David Gill, owner of South Lakeland Wild Animal Park, said: "It took us by surprise because we've had a lot of mating activity over the years but actually no results, so we were starting to feel it was never going to happen.
"Then, totally out of the blue, one morning we heard a noise in the enclosure and there's a baby tiger."
Kadi is now one month old and has had to be bottle fed since birth.
Head keeper Gavin Clunie said: "To start with it was every two hours through the night, so that little bundle of joy has kept us all awake.
"It's meant lots of bleary eyes, and those huge claws constantly at your hands while you're trying to feed.
"They are very large and very sharp."
He added: "To see this little animal created and grow up, it's fantastic."
A pen is being built at the animal park, and it is hoped that the public will be able to see Kadi soon.
Related Internet Links
The BBC is not responsible for the content of external sites.