Cash boost for south Cumbria mental health unit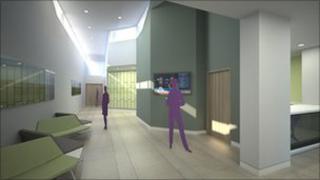 Plans to create a mental health "centre of excellence" in south Cumbria have been unveiled.
Cumbria Partnership NHS Foundation Trust is to carry out a £6.5m a revamp of the Dane Garth Site at Furness General Hospital.
The 20-bed ward will be replaced by 20 ensuite single rooms, and a gym and sensory area built.
The facility will also house the dementia assessment unit from Gill Rise in Ulverston.
Furnishings and interior design are based on evaluations conducted by The Kings Fund, which have been shown to maximise the therapeutic benefit.
Renovations are expected to be complete by the end of 2012.
Stephen Dalton, chief executive of the trust, said: "This new contemporary development is about supporting people in an environment conducive to their safe return to a supported community.
"It demonstrates that we are fully committed to delivering high quality environments and it will significantly improve the quality, safety and responsiveness of inpatient services to better cater for clients individual needs."