Kite surfer warning after Foulney Island search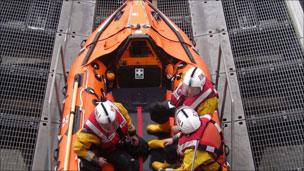 Kite surfers are being warned not to put themselves in danger after a Lancaster man went missing in strong winds off the coast of Barrow.
The alarm was raised after a member of the public spoke to two children in the Foulney Island car park who said their father had been missing for two hours.
The RNLI Vision of Tamworth lifeboat was scrambled because of fears the man had been swept out to sea.
He was eventually spotted walking along the shore on the east of the island.
Dave Green, lifeboat operations manager at Barrow, said: "Any kite surfer who had ventured out as far as the end of Foulney, in the those prevailing conditions of a strong easterly wind and fast ebbing spring tide in the same direction, was in danger of being swept out to sea.
"Thankfully he managed to make his own way to shore."
Kite surfers hold kites to help propel their surfboards along.
Related Internet Links
The BBC is not responsible for the content of external sites.