Cumbria flood death Pc 'saved lives' - inquest hears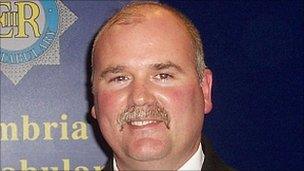 A policeman who died when a bridge collapsed during floods helped save lives, an inquest heard.
Pc Bill Barker was directing traffic away from Northside Bridge in Workington in November 2009 when it buckled underneath him.
Moments before his death, Pc Barker had prevented vehicles crossing the bridge, the inquest in Cleator Moor heard.
The 44-year-old was swept away by the swollen River Derwent. His body was found 10 miles away.
Stagecoach employee David Hoare told the hearing that he and his colleague Kevin Sheehan helped police direct traffic away from the bridge for several hours during the heavy downpour.
He said when the bridge collapsed a "crescent-shaped chunk" went missing which left a three-metre hole.
Mr Hoare told the hearing: "I feel that anyone would have acted in the same way, but without our actions there could have been further casualties as vehicles could have fallen into the river.
"I feel lucky I was not killed."
Pc Barker's patrol partner told the hearing of his last moments before being swept away.
Pc Mark Ormerod said when they got close to where a section of the bridge had collapsed they smelt gas.
He said: "Billy said, 'Let's get out of here'. We walked back to our vehicle and Billy went to the pavement at the side and towards the parapet.
"I was 10 to 15ft away from Billy at this point. I took a couple of paces and I heard a dull rumble and a crack.
"I noticed the wall and pavement where Billy had been standing had gone.
"It was as if someone had taken a knife and cut the road surface off as clean as butter."
Consultant pathologist Dr Alison Armour said Pc Barker suffered a laceration to the back of his head and a fractured skull.
She said it was probable that his head had hit a rock which would have caused immediate unconsciousness.
The inquest, at Cleator Moor Civic Hall, is scheduled to last three days.
Related Internet Links
The BBC is not responsible for the content of external sites.