Nella Last's post-wartime writing published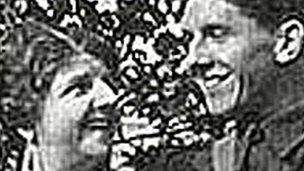 The third diary of a housewife, whose war writings inspired a Bafta-award winning drama, has been published.
Nella Last's War (1939-45) was written by Barrow woman Nella Last and was adapted for the small screen by comedienne Victoria Wood.
Now Nella Last in the 1950s - has been published more than 40 years after her death.
A book launch is being held at Barrow Library on Thursday at 1900 GMT during which extracts will be read out.
Wood won the Bafta in 2007 for her ITV drama Housewife, 49.
It followed Mrs Last as she struggled to come to terms with her difficult marriage and her sons growing up.
Wood, who wrote Dinnerladies and Acorn Antiques, said Mrs Last's writing was "fantastic".
Mrs Last began her diary in September 1939 as a volunteer for the Mass Observation Archive.
This was set up to record the views of ordinary British people and recruited volunteers to observe British life.
Councillor Gary Strong, Cumbria County Council's cabinet member responsible for libraries and archives, said: "Nella Last has established herself as a local icon and a people's champion.
"It's fitting that the launch of her latest volume of diaries should take place in her home town."
Nella's eldest son, Arthur, was a tax inspector and exempt from conscription and her youngest son, Cliff, was in the Army.
Her second diary Nella Last's Peace (1945-48) was also published.
Related Internet Links
The BBC is not responsible for the content of external sites.