Revamp row homes in Barrow are demolished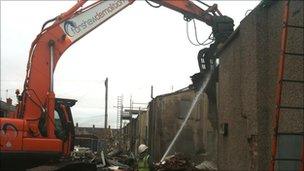 The demolition of more than 120 homes has begun, despite opposition from some residents that the move has broken up a long-standing Cumbrian community.
Barrow Borough Council is spending more than £10m on regenerating the Arthur Street and Sutherland Street areas.
The authority said it was more cost effective to bulldoze the 126 old-style terraced properties than for them to be refurbished and brought up to date.
Some long-time residents had opposed compulsory purchase orders.
The houses were originally built for shipyard workers.
Lois Dodd, who lived in one of the now demolished homes in Sutherland Street, said: "This is absolutely devastating. Life here was happy before all this happened.
"Everybody knew everybody. No-one knows anywhere where I live now.
"I used to be able to sit on the front doorstep and knit in my old house. I can't do that now because of the traffic."
Barrow Council leader Jack Richardson said: "When these houses were built, almost 140 years ago, they were very desirable properties.
"However, standards change and it was determined these houses could not be brought up to a reasonable standard at a reasonable cost.
"Once the demolition is complete, the council will start negotiating for a rebuilding programme which will involve private sector investment.
"They won't all be the same type of house and there will be green spaces to make area more attractive."
Related Internet Links
The BBC is not responsible for the content of external sites.