Concern over Cumbria short break funding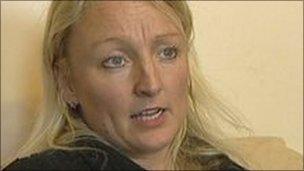 Parents of disabled children in West Cumbria are angry that plans to build a home to provide short breaks could be scrapped because of government cuts.
At the moment, children go to The Elms, in Workington. But it was not purpose-built and there is no room to expand.
Cumbria County Council planned to build a new home with £650,000 in government grants but said some of that has been taken away, jeopardising the scheme.
The Department for Education said it was still reviewing its spending.
Single mother, Rachael Davies, 41, from Cleator Moor, told the BBC Politics Show that getting a break from caring for her severely disabled daughter, Saskia, 11, keeps her from crisis.
She said: "People don't realise that when she goes to bed she hardly sleeps... she needs two-to-one care and there's just me."
The plan was to build the new home at Hensingham.
The council said the Department for Education had "clawed back" part of the cash - £165,000 - placing the whole project in question.
The Department for Education told the Politics Show it was still "reviewing details" of Short Breaks capital commitments and said that local authorities would be notified of decisions shortly.
A clearer picture should emerge after the Spending Review.
See more on this story on The Politics Show, Sunday, BBC One, 1200 BST.
Related Internet Links
The BBC is not responsible for the content of external sites.