HMS Walney pays final visit to Barrow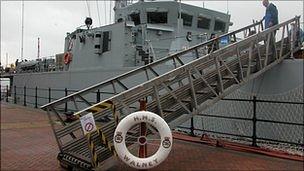 A Royal Navy warship is paying a final visit to its home town in Cumbria after being decommissioned from the fleet.
HMS Walney, a minesweeper which was launched in Barrow in 1991, has docked in the port, and will host an official reception later.
Members of the public will also be able to come on board on Sunday to see the vessel's hi-tech equipment.
Its commanding officer said that it was always a pleasure to visit the town and the crew was always made welcome.
Lt Cdr Essenhigh added: "Obviously this visit will be a little different, as it is our last, but we hope that local people will welcome this as a chance to celebrate what has been a long and friendly relationship.
"Barrow has a very proud sea-going heritage and extremely close ties with the Royal Navy.
"We have been very proud to be part of that."
Related Internet Links
The BBC is not responsible for the content of external sites.