Appleby Horse Fair talks begin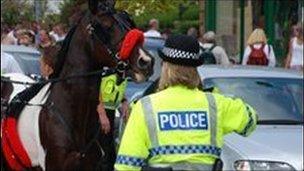 Talks have begun over the future policing and organisation of the Appleby Horse Fair in Cumbria.
Thousands of people attend the annual event, which is billed as one of Europe's largest gatherings of Gypsies and travellers.
But a report into the 2010 event in June concluded that organisers and police failed to balance the needs of the different communities involved.
A meeting on Monday was described as "challenging" by the chairman.
Kevin Douglas, chief executive of Eden Council, who chaired the meeting, said: "Everyone had a chance to air their views and try and move forward.
"We didn't get everything right this year. But we are now trying to work with it and build a new understanding for next year so we get 2011 as the best fair ever."
The issues surrounding the fair are being assessed by a Multi-Agency Strategic Co-ordinating Group (MASCG), which includes local councils and the police.
Some travellers led a protest march through the village after complaining of heavy-handed tactics by the police at the 2010 event.
Leaders of the travelling community say there will be official complaints lodged.
The Cumbria force said the event's policing had been "fair and proportionate".
Related Internet Links
The BBC is not responsible for the content of external sites.