Spending Review: Cumbria Police job cuts warning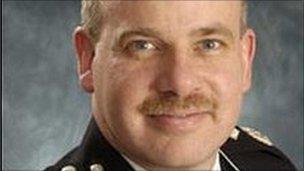 Cumbria Police have said they expect to end the financial year with 5% fewer officers and 15% fewer staff, after the government's budget announcement.
The force said early indications showed it would have to cut its budget by between £15m and £20m by 2014/15.
In May the force said it would remain committed to front-line policing despite a cut in its budget.
On Wednesday the chancellor confirmed policing would receive average cuts of 4% every year for four years.
Chief Constable Craig Mackey said the Spending Review had given the force guidance on how much it needed to save but it would not know the true figure until December.
The police authority would then agree a final budget in February 2011.
He said: "It is without doubt that Cumbria Constabulary will be a smaller organisation due to the savings we need to make, but we are firmly committed to trying to protect front-line policing.
"Unfortunately this cannot mean maintaining the front line at current levels. We will do everything we can to maintain officer numbers on the streets of Cumbria, but face difficult choices around keeping police stations open, maintaining our fleet and conducting back office functions."
Mr Mackey said work was already underway to identify efficiencies, supported by a recruitment freeze.
He said they expected to end the 2010/11 financial year with 70 fewer officers, giving a total of 1,200 officers and 130 fewer police staff, leaving a total of 740.
The police authority said it was committed to minimising the impacts on front-line policing.
Related Internet Links
The BBC is not responsible for the content of external sites.