Dalston bridge closed over safety fears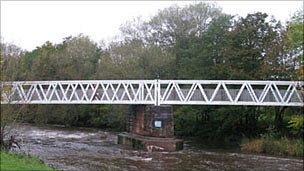 A footbridge in a Cumbrian village has been closed because of safety fears.
Divers were called in to examine the central pier of the White Bridge in Dalston.
They found 80% of its foundations had been eroded by the river leading Cumbria County Council to close it for repairs.
Villagers described the closure decision as a shock on a route that is well-used by walkers and cyclists. Repairs will start in the summer.
A Cumbria County Council spokesman apologised but said "we must put safety first and the condition of the pier means the bridge has to be closed until repairs can be carried out".
Dalston Parish Council vice chairman Ronnie Auld said the alternative route would mean people walking along a busy main road.
He said: "It's a big shock to the village because the route which goes over it is a bridleway and is very well-used by people going to work, children going to school and walkers."
He said there was concern that damage to the bridge would get worse and they would be pressing for it to be repaired as a priority.
Related Internet Links
The BBC is not responsible for the content of external sites.