Leyland clock in Kendal working again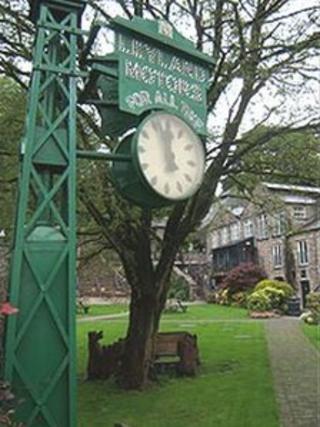 A clock in Kendal is back in working order after being taken away for restoration.
The Leyland Clock, which stood for years by the A6 on the way to Shap Fell, is back at its retirement home at the Brewery Arts Centre in Kendal.
Seven Leyland Clocks were located at prominent positions on major UK roads in the 1930s by Leyland Motors Limited.
Lenore Knowles, the farmer's wife who used to wind up the Kendal clock weekly, will unveil it on Sunday.
Mrs Knowles, of Hollowgate Farm, said: "I've done it in all weathers, in rain, hail and snow."
She said she was paid £2 a year for winding the clock up once a week.
Enthusiast appeal
She added: "The road was non-stop. Even at night the traffic was busy."
The outer shell of the clock was removed and preserved in the 1970s. But the clock's innards were only found after an appeal by local enthusiasts in 2007.
A retired GP from Carlisle discovered the missing workings of the clock in items left to him by a former patient.
Tim Holt of the Cumbria Steam and Vintage Vehicle Society led the fundraising appeal that raised the £2,500 for the clock to be restored, two years ago.