Half of Cumbria 'over the age of 50' by 2029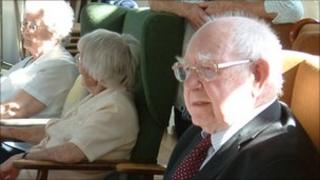 By the year 2029 more than half the population in parts of Cumbria will be over the age of 50, BBC-commissioned research found.
The research, carried out by Experian, looked at how areas of England will be affected by the ageing population.
Age UK said although many of Cumbria's elderly people were "well-off" they faced other "crippling" problems.
The organisation said many people who had retired to the county were alone after the death of a spouse.
A spokeswoman said many younger people had been priced out of the area by high house prices and said Age UK had relied on people in their 60s to run services for people even older.
In 20 years' time, it is predicted 56% of the population of South Lakeland will be over the age of 50 and in Eden the figure will be 54.5%. Across the UK, over-50s will account for 38.6% of the population.
However, the research has suggested older people in Cumbria will not, generally, be a drain on resources because many are retired but affluent.
Sonia Mangan, Director of Age UK South Lakeland said however that despite this, older people could be facing different kinds of problems.
In the past 12 months, the organisation has spent £1m helping 10,000 people over the age of 60 in the area.
She said: "South Lakeland is 35 miles wide and isolation and the travel distance to services is a problem.
"Many people move to this pretty county to enjoy retirement, then a spouse dies and their life changes dramatically, they may then be asset-rich but poor in other terms.
"It also doesn't matter how much money they have if services are miles away."
She said the voluntary and statutory sectors had to work together to tackle the problem of loneliness.
She said: "With the elderly there is often sensory loss, the onset of dementia and a prevalence of loneliness.
"This can lead to clinical depression and, to put it bluntly, this can be expensive in terms of health and social care."
The Experian research also found that in Eden 51.5% of the over-50s had jobs, while the national average in this age group was 38.1%.
The area also topped the UK table when it came to social cohesion - 94% of older people said their neighbours "looked out for them".
But the research found that in a less affluent area like Barrow, there were a high numbers of pensioners who were acting as unpaid carers for loved ones - 13.3% compared to the national average of 11.8%.
Also 17.6% of older people in Barrow are in the "most vulnerable" category, in terms of health and income.
A spokesman for Eden District Council said house prices in the area were seven times the national average and there were "pockets" of the population who struggled.
The spokesman said: "Although our household income level is higher than some other parts of Cumbria, this figure masks pockets of deprivation where household incomes are among the lowest in the county.
"Some of our rural wards also have amongst the highest levels of fuel poverty in England."