Flood alleviation scheme complete in Penrith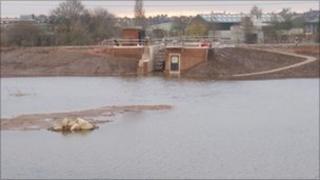 Work on a £5.6m flood alleviation scheme in Cumbria has been completed.
A total of 263 homes and 119 businesses in Penrith will benefit from the new flood protection.
It aims to reduce the chance of flooding from Thacka Beck - the watercourse that runs under the streets of Penrith.
In November 2009, Cumbria suffered unprecedented rainfall which led to widespread flooding, affecting many homes and businesses.
The Environment Agency said it had completed the scheme a month ahead of schedule.
It said it was hoping to carry out landscaping and tree planting around the flood storage reservoir next year.
The scheme was carried out in partnership with the Environment Agency, Eden District Council, Cumbria County Council, Eden Rivers Trust, Cumbria Wildlife Trust and local businesses.
Two parts
Mike Harper, the Environment Agency's project manager, said: "Originally, the scheme was due to be finished by Christmas but thanks to the work and support of everyone involved, we have managed to complete the main works a month ahead of schedule. "
The flood alleviation scheme consisted of two parts - work to repair, replace and upsize 600m (660 yards) of culverts beneath the streets of Penrith.
And the construction of a 76,000 cubic metre (2.7m cubic feet) flood storage basin upstream of the town, to hold back flood waters and reduce the risk of the culverts overflowing, as well as the wildlife area being developed.
Eden District Council's environment portfolio holder, Councillor Mike Tonkin, said the completion of the scheme was a "real boost for the town's economy" during the Christmas period.