Sellafield grit shortage forces workers home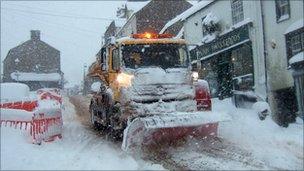 Day workers at Cumbria's Sellafield site have been told to stay at home due to a shortage of grit, as freezing temperatures look set to remain.
Heavy snow has affected parts of the county, with more than 80 schools and colleges closed.
The southern and western areas have been worst affected.
Sellafield said a decision had been taken to operate the site at minimum safety manning levels on Wednesday.
It said employees based at Risley and Capenhurst and all other out-stations were advised not to travel to Sellafield on Wednesday.
A decision about staffing on Thursday would be taken on Wednesday, it added.
Throughout Tuesday in Cumbria most roads were open, but the A595 was partially blocked by stranded vehicles. Parts of the M6 were also down to two lanes.
Cumbria County Council said it had treated all major routes, but warned drivers to take care.
Additional stocks of the grit requested by 117 parish and district councils, to allow them to treat roads and footpaths locally, have been delivered.
The council said that it had plenty of rock salt in its depots and was receiving weekly deliveries of 1,400 tonnes from the Salt Union in Cheshire.
It said it was also ordering a further 5,000 tonnes of salt from other sources.
Related Internet Links
The BBC is not responsible for the content of external sites.