Power cut plea over Cumbria's wintry weather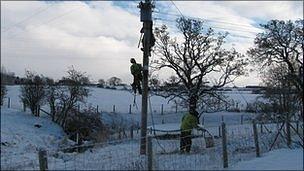 Cumbria's public health chief has asked the electricity regulator to stop power companies switching off power supplies to homes during freezing temperatures.
Planned maintenance work has been causing power outages to villages in the south of the county.
Professor John Ashton said it could potentially jeopardise public health and has alerted Ofgem of his concerns.
Electricity North West has described the work as essential and said if it was not done lines could fail.
Homes in Storth, near Milnthorpe, are currently spending a day without power, and similar work was carried out at Ivegill near Carlisle on Wednesday when supplies were interrupted.
However, on Friday, work which would have switched off the power to Casterton was postponed due to the sub-zero temperatures.
Professor Ashton said: "I have asked Ofgem to clarify what statutory instruments are in place to prevent companies from potentially jeopardising public health in this manner, and what steps the regulator will take to restrict this practice.
"In cases where companies say work is urgent, regulators should be challenging companies to make sure homeowners are properly supported with alternative forms of heating."
Electricity North West said it would do its best to help people who contacted them to say the outage would lead to difficulties.
Meanwhile, the wintry weather is continuing to cause some disruption in Cumbria with 23 schools and colleges closed - on Tuesday there were more than 80 closures.
Drivers are continuing to be warned to take care on the roads, especially on the high passes.
Related Internet Links
The BBC is not responsible for the content of external sites.