Students protest in Carlisle against tuition fees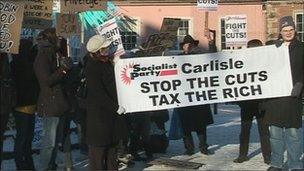 Students have gathered in Carlisle city centre in protest over government plans to increase tuition fees.
The students were demanding that MPs reject the plans in a vote on Thursday.
The rally, in the town's market square, was organised by students from the University of Cumbria with the support of Youth Fight for Jobs and Socialist Students.
They were also joined by 6th form students from Carlisle College.
They were protesting over plans to cut their Educational Maintenance Allowance (EMA) - a payment of up to £30 a week to students from low income families enabling them to continue studying.
Liam Walker, a student union officer at the university, said: "A lot of people are scared and are being put off going to university.
"It is just not viable to be £20,000 to £40,000 in debt when you leave."
Dan Thorburn, spokesman for the Carlisle branch of Youth Fight for Jobs, said: "Many 16 to 19 year-olds from working class families need the EMA for transport to school or college and for educational materials.
"Some travel from West Cumbria to Carlisle every day."
Related Internet Links
The BBC is not responsible for the content of external sites.