Cumbria traders worry supermarkets are 'taking over'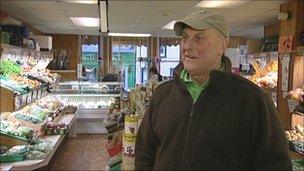 Traders have said they are worried about their livelihoods after at least eight supermarkets received planning approval in Cumbria in two years.
BBC research shows planners approved at least 577 stores in the UK in the two years to November.
Among the eight in Cumbria were five Tesco stores.
The BBC contacted every UK planning authority to discover how many shops from Asda, Morrisons, Sainsbury's and Tesco received planning permission.
Wigton greengrocer Bill Lightfoot said small traders were disappearing.
Mr Lightfoot, who is based on the High Street, is against plans to build a new Tesco in the town, which is expected to create 270 jobs.
He said: "We don't have the benefit of a level playing field in terms of the size of supermarkets.
"The uniqueness of small traders can only go so far - if there is a free car park available outside a supermarket and everything is on offer and it is pouring with rain you are not going to walk 200 yards for 'unique' shopping.
"Tesco have offered us virtually nothing so they must think this is the promised land.
"We have been represented very poorly - supermarkets can move into a place like Wigton for virtually nothing and take the place over.
"In 10 years time this street won't look anything like it does today - the independent trader will have gone with maybe one or two of the butchers surviving.
"It will be hairdressers and cafes and it will be radically different.
"We will be the road through Wigton rather than the road to Wigton."
While Tesco was given the approval for the most stores in Cumbria, Sainsbury's received approval for two sites.
Carlisle City Council gave the go-ahead for a new Sainsbury's for the city, in a deal which will see £1.3m put into community facilities.
The money is earmarked for cycle provision, traffic calming measures in Rigg Street and road improvements to Church Street.
A statement from Sainsbury's said: "As part of its successful planning application for a new store in Carlisle, Sainsbury's agreed a package of infrastructure improvements totalling around £1m.
"These contributions were negotiated with the city council in respect of our proposals, and therefore relate to the store and are of an appropriate scale.
"These included a contribution towards works and signalisation of the Caldcotes roundabout, a range of traffic calming measures in nearby residential streets."
Allerdale Council also recently agreed a £10,000 deal with Tesco for its Northside site and the money will be spent on the conservation of its blue butterfly population.
But Sharon Phillips, who works at Belvy and Sons Bakery in Wigton, said she feared supermarkets would destroy community spirit.
She said: "My first feeling when I heard Tesco was coming was panic - I love my job and I love the customers and I was very worried about my job.
"There are a lot of small businesses in the town and I've spoken to a lot of our elderly customers who have been with us for a long time, and they have said they will stay with us.
"But from a younger family point of view a lot of people want convenience and for everything to be under one roof.
"But it isn't a very sociable experience in a supermarket - it splits up community spirit. People like banter and to go where people know them - we are about quality not mass production."
In a statement, Tesco said most of its applications were for small, local convenience stores rather than large supermarkets.
It said: "We always put customers first and we have invested in the UK even during the worst recession in living memory, creating tens of thousands of jobs, many in the most deprived areas of the country."
Related Internet Links
The BBC is not responsible for the content of external sites.