Rare Arctic Charr making Lake District comeback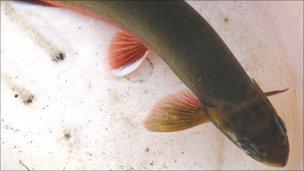 A project to boost a rare fish population in the Lake District has been hailed as a success.
Arctic charr numbers in Ennerdale Water have dwindled from an estimated 11,000, 20 years ago.
Factors such as pollution, water temperature, gravel movement, and blocked migration were blamed.
The Wild Ennerdale Partnership has been restoring the eco-system, and in 2010 more than 500 char spawned in the River Liza, which runs into the lake.
The partnership is made up of people and organisations led by The Forestry Commission, National Trust, Natural England and United Utilities.
Charr found in Ennerdale are different to those in other parts of the Lake District because they spawn in a river, not the lake itself, and require a good supply of gravel for spawning nests.
A pipe bridge, which was a barrier to migrating fish and also crucially prevented gravel from flowing further downstream to the spawning sites close to Ennerdale Water, was removed.
The acidity of the water was also improved by replacing conifers in the surrounding area with native broadleaves, Juniper and heathland.
In addition, Environment Agency officers have been taking eggs from local fish, and returning the hatched fry to the River Liza.
Peter McCullough, project manager, said: "This is fantastic news for the biodiversity of the Lake District.
"These fish are also important as a barometer of climate change because they are at the southernmost limit of their natural territory."
Related Internet Links
The BBC is not responsible for the content of external sites.