Snow and ice cause problems on Cumbria roads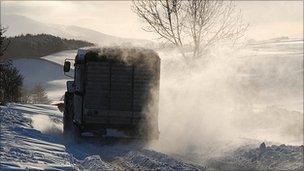 Wintry weather has been causing difficulties on the roads in Cumbria.
Although the area had escaped the heavy snowfalls on Saturday which hit other parts of the UK, icy conditions are leading to problems for drivers.
Police said that although major roads were passable with care people should only travel if absolutely necessary.
On Saturday, a coastguard rescue 4X4 vehicle had to assist an ambulance which was unable to negotiate the road to a village near Whitehaven.
An overnight power cut left about 2,000 homes in Brampton without electricity for a time.
It has now been restored to all but 31 homes, and engineers from Electricity North West are working on a section of cable to complete the repairs.
Related Internet Links
The BBC is not responsible for the content of external sites.