North Cumbria breast screening 'meets standards'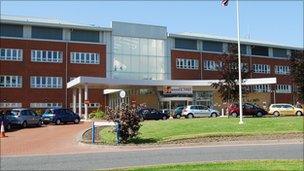 North Cumbria's breast cancer screening service is meeting expected standards, a new review has found.
The service was halted after 16 women were found to have the disease after originally being given an all-clear.
This led to a report into 1,695 cases which were recalled for further tests. It found that needle biopsy tests had not been carried out in enough cases.
A random sample of a further 1,000 records was then reviewed, and national standards were found to be met.
The National Breast Screening Programme's Quality Assurance team found that although two of these women were later diagnosed with cancer, this was not due to problems with the north Cumbria service.
Professor John Ashton, Cumbria's director of public health, said: "Mammography is the most reliable way of detecting breast cancer early but, like other screening tests, it will not find every cancer.
"Nonetheless, each breast screening programme must demonstrate that it is meeting national standards.
"This final review into other aspects of the north Cumbria breast screening programme has been led by national experts who have analysed the results and judged that the programme was meeting expected standards."
The breast screening programme is now to be run in north Cumbria by Newcastle upon Tyne Hospitals NHS Foundation Trust in partnership with North Cumbria University Hospitals NHS Trust, and will resume in January.
North Cumbria University Hospitals Trust's chief executive, Carole Heatley, said: "I would like to once again apologise on behalf of our trust for the distress and anxiety this issue has caused."
Related Internet Links
The BBC is not responsible for the content of external sites.