Warning over public grit supplies in Cumbria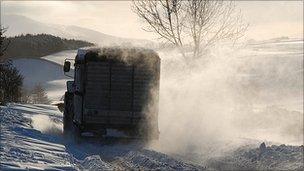 People in Cumbria have been warned that it is illegal to take grit allocated for the public highway for their personal use.
About 10,000 grit bins and salt heaps are provided by the council so residents can treat public pavements and more minor roads.
There have been a number of reported incidents of the contents being used on private footpaths and driveways.
The council said it would work with the police to catch those responsible.
Heavy snow is forecast for the county on Tuesday.
Councillor Tony Markley, cabinet member for highways, said: "We're doing all we can to minimize the disruption of this unusually cold weather by working 24-hours a day to clear our priority roads and provide communities county-wide with additional supplies of grit to allow people to take up the battle locally.
"Our grit bins and salt heaps play a crucial role in providing local gritting so I'd warn people they are facing prosecution if they are anti-social and remove grit designed for public pavements and roads and use it on their own property."
Related Internet Links
The BBC is not responsible for the content of external sites.