Team builds replica of artist's Cumbrian barn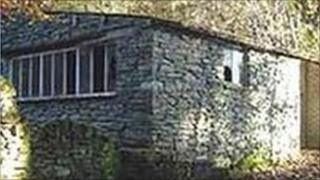 A team of dry stone wallers from Cumbria is heading to London to build a replica of a barn where artist Kurt Schwitters worked.
The German artist created his Merz Barn in Great Langdale 60 years ago.
The barn will be built in a courtyard of the Royal Academy and will form part of an exhibition on modern British sculpture which will run between January and April.
Twenty two tonnes of lakeland stone has already been transported to London.
Rob Fraser, who is co-ordinating the project, said they would be creating a replica as close to the original 26ft (8m) by 16ft (5m) building as possible.
He said the team had been to London to look at the site a few times.
He said as well as the finished barn, he thought the process of building it would be an art piece which would be seen by visitors to the Royal Academy.
He said: "It's the biggest opening we have had in a good while to promote the work of Kurt Schwitters.
"The idea is over time to develop the site further, to restore the barn to its original glory and to help get Kurt Schwitters more recognised in the region."
They are due to start building on Tuesday and hope to have the barn finished by Monday.
Schwitters, who fled to the UK from Nazi Germany in 1937, used the barn as a studio and turned one gable wall into part of a huge Merz project - enormous combinations of sculpture and collage.
Talks have been held about plans for a memorial to Schwitters in Cumbria.