Record year for mountain rescue callouts in Cumbria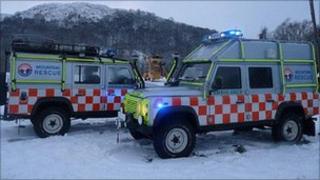 Mountain rescue teams across Cumbria have reported a record year for callouts, responding to 564 in 2010.
The Lake District Search and Mountain Rescue Association (LDSMRA) said the number was higher than the 2009 figure of 532.
The number of fatalities rose by 47% from 19 in 2009 to 28 last year.
Two lengthy spells of extreme weather at the start and end of the year were blamed for the bulk of the most serious incidents.
Almost 48% of all callouts were the results of falls or slips, with a further 20% in response to walkers becoming lost, according to the association, which is the umbrella organisation for 11 mountain rescue teams in Cumbria.
The association's incident officer Ged Feeney said teams were having to deal with more inexperienced visitors to the Lake District as people opted to holiday in the UK.
He said teams had also been stretched by extreme weather conditions in Cumbria in January and during November and December.
In the past month alone two people died after falling from Helvellyn.
Mr Feeney repeated warnings to visitors to be well prepared.
He said: "We are seeing the staycation effect, with a lot more people deciding to holiday in the UK and as a result visit the Lake District.
"People should remain within their sphere of experience and be well prepared for the conditions at the time."
Nick Owen, team leader for Langdale and Ambleside Mountain Rescue, which responded to 160 callouts, said: "People are still going out without maps, compasses, torches and the ability to navigate properly.
"All these things are avoidable with better planning."