Water supplies restored to Cumbrian homes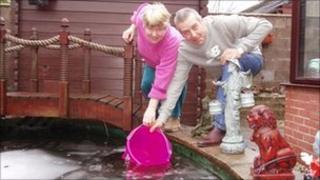 Mains water has been restored to a number of homes in Cumbria which were without supplies since before Christmas.
A handful of properties in Wandsworth Gardens in Shap were without water after plummeting temperatures led to frozen pipes on Christmas Eve.
United Utilities apologised and said it had been struggling to cope with a tenfold increase in calls from customers.
Engineers restored the supply earlier.
Some families had to use pond water to flush toilets, while others called on friends and neighbours for help.
Speaking before the supplies were restored, father-of-three Michael McArthur said: "We are using water from our fish pond for the toilets and water from a relative to help with other things like washing up."
Neighbour Alison Bailliff said: "I've had to send two of my elder children to their grandmother's in Wigton because we don't have any bathing facilities."
Gary Dixon, United Utilities' customer services director, said: "We understand how these customers feel and we are extremely sorry that they have been without water over the festive period.
"A team of engineers has been working at Wandsworth Gardens today and has now restored their supply.
"Since Christmas Day we have received 10 times the usual level of calls from customers across the North West reporting loss of supply."
He said their primary focus had been to repair major leaks and bursts because otherwise thousands of customers would have been left without supplies.