Lowther Castle to be restored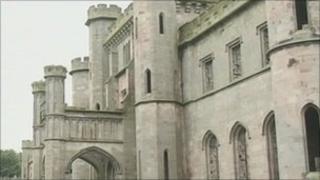 Work is due to begin on a multi-million project to restore a run-down Gothic castle in Cumbria.
More than £9m is to be spent transforming Lowther Castle, near Penrith, and its 20 ornamental gardens into a tourist attraction.
The Lake District National Park Authority (LDNPA) also plans to carry out building work to stabilise the castle building.
It is hoped the castle, built in 1805, will attract 100,000 visitors a year.
The Northwest Regional Development Agency has awarded £7m, and a further £2m has come from the Northwest European Regional Development Fund.
The castle has been empty since the 1950s.
'Massive project'
The money will also be spent creating better access to the castle, its stables and its overgrown gardens.
A collection of the castle' s remaining silver and furniture will be shown for the first time in a specially constructed gallery in the stable courtyard.
Bill Jefferson, chairman of the LDNPA said: "This is a massive project and it will be a major attraction.
"The funding is in place and it is going to take years, but it will be terrific for all of us."