Carlisle Racecourse to host Cumberland Show again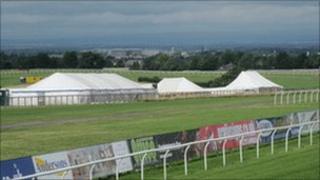 Carlisle Racecourse is to host the Cumberland Show for the next three years.
In July 2009 the show was cancelled after heavy rain led to its former home in Rickerby Park becoming waterlogged.
The following year it moved to the racecourse, and attracted 15,000 visitors, despite further wet weather.
Organisers have now signed a contract for it to remain there until 2013, after which both parties will review the situation.
Show secretary Donella Rozario said: "We were really pleased with the much bigger range of indoor, outdoor and hard-standing facilities at the racecourse last year, and with the number of people who came.
"All in all, it is much better for the show to be staged there than at Rickerby Park where there is always a risk of flooding down by the river."
John Baker, from Jockey Club Racecourses, which owns the Carlisle track, said: "We are delighted that such a prestigious and popular event as the Cumberland Show will be returning this year.
"It was our pleasure to host it for the first time last year and the feedback we got from people who came was very positive."
The 2011 event will take place at the Durdar track on 16 July.