Carlisle merged academy schools cut up to 70 jobs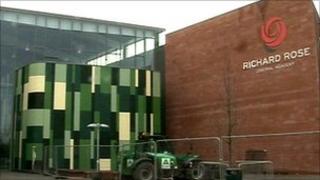 Up to 70 jobs are likely to be cut at Carlisle's two merged academy schools.
The federation which runs the Richard Rose and Morton academies said the reductions would create a "more streamlined" staffing structure.
The move, which affects teachers, assistants, technical and business staff, represents 17% of the schools' 450 employees.
Federation chief executive Mike Gibbons said a 30-day consultation with staff and unions was under way.
Mr Gibbons said: "This includes support services for classrooms, both teaching and non-teaching staff, but we are determined that it will not affect students and teaching."
He added that about 30% of affected posts would be lost through natural wastage.
Cumbria division secretary for the National Union of Teachers (NUT) Alan Rutter, said: "It is obviously upsetting when any school has to lose staff in such large numbers, especially when there are already big cuts at Cumbria County Council."
In January 2009 Ofsted inspectors found the Richard Rose Academy had poor leadership and attendance and was not properly communicating with parents.
A new management team was brought in, along with a new head teacher.
The schools have one governing body and a joint sixth firm.