Cumbria marshland search for missing hunter called off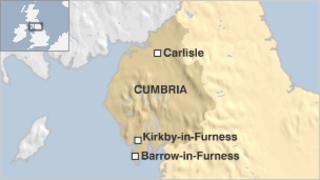 The search for a Barrow man who went missing while out hunting on a marsh in Cumbria has been called off.
Coastguard officials said family members had agreed there was little hope of finding Paul Larkin, 53, alive.
He was shooting wildfowl with his son and another man on Angerton Marsh near Kirby-in-Furness on Saturday.
A Coastguard spokesman said bad weather meant it had become impossible to continue the search operation.
Coastguard watch manager Paul Parks said: "Visibility has drastically reduced, we have got heavy rain and the winds are increasing.
"But the main factor is now that the tide has come in.
Flooded marshes
"We have been searching on the low water mark and moving in ahead of the tide. But that has now basically covered the areas that we could possibly look in."
A RAF Sea King helicopter had taken part in the search along with teams from the Coastguard.
The hunt was halted at about 2100 GMT on Saturday and re-started at 0700 on Sunday.
Mr Larkin failed to meet the others in his group at a pre-arranged location. They raised the alarm as the tide began to sweep in and flood the marshes.
A Cumbria Police spokesman appealed for witnesses who were in the Angerton Marsh area on Saturday to come forward.