Workington's army-built flood bridge removed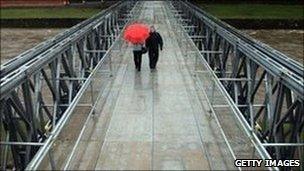 Work has begun on the removal of a temporary footbridge which linked the two sides of Workington in the wake of Cumbria's devastating floods.
Barker's Crossing, which was built by the Army, is no longer needed as a permanent bridge is nearing completion.
The crossing was named after Pc Bill Barker who died when the nearby Northside Bridge was washed away on 20 November 2009.
The repaired Calva Bridge is due to re-open to pedestrians on 14 February.
Traffic should start using it by Easter.
Barker's Crossing opened 18 days after Workington was split in two by the heaviest rainfall ever recorded in England.
It reconnected both sides of the town following the destruction of other bridges.
Pc Bill Barker was directing traffic away from Northside Bridge when it collapsed.
The father-of-four from Egremont fell into the River Derwent, which had been swollen by record rainfall.
Preparation works at Barker's Crossing began this week. The actual removal of the bridge will be carried out by the Army in the week commencing 21 February.
Calva Bridge was condemned and its collapse was anticipated, but repair works began despite the scheme being given a 50/50 chance of success.
Cumbria County Council said "it was a risk worth taking" as the time to construct and open a new build would have taken at least a year longer.
Transport Minister Norman Baker was in Workington last week to assess the progress the county had made since the floods in November 2009.
He visited Barker's Crossing and the Port of Workington.
Councillor Tony Markley, Cumbria County Council's cabinet member for highways, said: "The flood recovery process, which has been a difficult and drawn out task, is now getting to the point where the majority of bridges across Cumbria that were damaged or destroyed have re-opened.
"Only three carriageway bridges remain closed to traffic now and one of these has been replaced by a temporary bridge.
"Once (Calva) is open again to traffic we'll have the same road provision we had over the River Derwent in Workington before the floods and a return to some form of normality."
Related Internet Links
The BBC is not responsible for the content of external sites.