Yacht rescues hungry Cumbrian rowers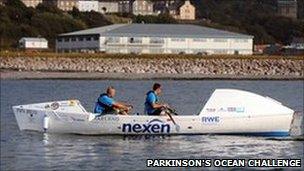 A yacht has gone to the rescue of two Cumbrian brothers who ran out of food while rowing across the Atlantic in aid of charity.
Former Royal Marines Chris and Matthew Cleghorn were surviving on just a 1,000 calories a day after a large wave damaged supplies.
Falmouth coastguards put out an appeal to vessels in the Canaries to help them out.
The brothers are raising money for Parkinson's disease research.
The pair are trying to row their boat Papa Delta from the Canary Islands to Antigua - a distance of 2,535 miles (4,080 km).
Falmouth Coastguards said that late last week, the pair's rowing boat was hit by a large wave which flooded a cabin.
The two have been updating a blog throughout their journey. Their latest, written on Tuesday, said about 10 days' supply of food was washed overboard.
It said that their family got in touch with Falmouth coastguards who helped organise a yacht to reach them.
It adds: "We are indebted to them for helping us out, they organised a yacht called the White Whisper, with 4 guys onboard, they were heading to Antigua too but have a problem with their rudder and steering.
"We owe these guys big time for the help they have given us. So we are currently sat on the para anchor waiting for them to reach us!
"Hopefully they have chocolate! But beggars can't be choosy!!"
The brothers hope to reach Antigua by the first week of March.
Related Internet Links
The BBC is not responsible for the content of external sites.