Woman found in Grasmere is named by police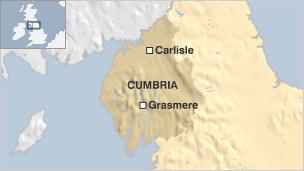 A woman found dead in a Cumbrian lake has been formally identified as a 56-year-old from London.
Alison Boyce, from Hornsey Lane, London, was found on the island in the middle of Grasmere on Monday.
Police said a rail ticket in her possession suggested she travelled to Cumbria from Euston earlier that day.
She was staying at a guest house in Easedale Road, Grasmere. Cumbria Police are appealing for help in tracing her movements.
It is believed she may have walked from the guest house along the Butharlyp Howe path, a popular local walking route .
Ms Boyce is described as being about 5'5", white with a pale complexion, with short light brown slightly curly hair.
She was wearing black Ecco walking boots, dark blue "Liz Claiborne" jeans, a white vest top, a black padded Umbro jacket with white Umbro logo on the chest and carrying a bag.
Related Internet Links
The BBC is not responsible for the content of external sites.