Former Carlisle striker Gary Madine back in court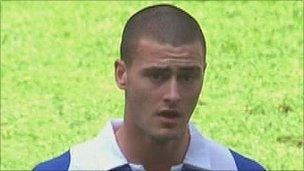 Former Carlisle United striker Gary Madine has appeared in court for failing to observe the terms of a sentence.
The 20-year-old, who signed for Sheffield Wednesday last month, was sentenced in November for assaulting a man in a pub in Carlisle.
He was given 250 hours of unpaid community work.
But at Carlisle Crown Court Judge Paul Batty heard that Madine had completed only six-and-a-half hours of the work.
He also failed to keep in touch with probation officers or tell them where he was living after his move to Sheffield.
Judge Batty said Madine, who is Gateshead-born, had done "very little" to obey the court order.
He transferred the order to a probation service in Yorkshire so Madine could do the work in Sheffield.
Judge Batty warned him that if he failed to do it he would be brought back to Carlisle Crown Court - which would not be "a happy experience" for him.
He ordered Madine to pay the £100 costs of the hearing since he had "brought it on himself".
Last November the court heard how Madine acted like a  "raging bull" after he leaned over the bar in The Beehive on Carlisle's Warwick Road and helped himself to drink after closing time, last year.
Moments later he attacked a man who was trying to help the management remove him from the building.
Related Internet Links
The BBC is not responsible for the content of external sites.