Wordsworth House £20k revamp fund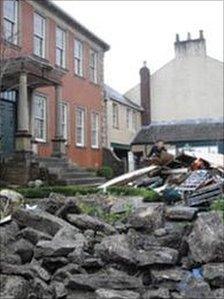 Wordsworth House in Cockermouth has won £20,000 in funding through a national vote.
The funding will be put towards renovating the grounds after it was damaged in the November 2009 floods.
The money was part of £100,000 donated by Bovril to the National Trust to help restore special outdoor areas across the country.
Wordsworth House was one of five successful sites that received a share, scooping 1,944 public votes.
The grounds were badly damaged during the floods.
The oak gates were ripped off and walls and terraces were demolished.
The £20,000 will be used to renovate the gardens, with the replanting of the terrace and the building of a summer house.
A completion date is expected in the summer.
Gardener Amanda Thackeray said: "Fifteen months after the flood, there is still a huge amount of work to be done.
"Thanks to everyone who voted for us, we'll be able to complete the restoration and make William's childhood garden even lovelier than before."
Related Internet Links
The BBC is not responsible for the content of external sites.