Call for full reopening of Workington bridge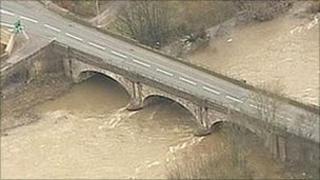 Workington's MP said he will be pushing for the full opening of a bridge badly damaged in the Cumbria floods.
Calva Bridge reopened to pedestrians on Friday with the full opening date, when it can be used by traffic too, by Easter.
Tony Cunningham said he wanted it to be fully in use as soon as possible.
Cumbria County Council said there had been "considerable" technical difficulties with the bridge as well as the severe winter weather.
For a time, Calva Bridge was condemned and it was feared it may collapse but the council made the decision to repair it.
The original reopening date for pedestrians was Monday but work finished earlier than expected and it has been in use since Friday evening.
Mr Cunningham said it was important for the bridge to be fully operational.
He said: "I was hugely disappointed. My understanding is that there really should be only three or four weeks' work.
"The reason I have raised this is I want to put as much pressure as I can on the contractors, on the county council to get this bridge open as quickly as we can possibly do it."
The council said the bridge repair scheme had been a major challenge.
It said the decision to repair it rather than replace it had been a risk worth taking.
It said despite the slippage in the timetable the crossing would be open more than a year sooner than it would have taken to rebuild it from scratch.