Campaign for Penrith's Lonsdale cinema raises £50,000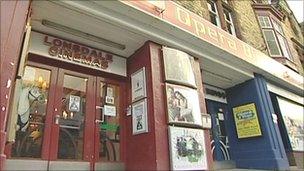 A campaign to save a 100-year-old Cumbrian cinema from closure has raised £50,000.
Although the Lonsdale Alhambra cinema in Penrith is doing well, the bingo hall next door is not profitable.
Owner Graves (Cumberland) wants to shut both businesses and rent out the building.
But it has said it would consider selling the building for £750,000. Campaigner Dawn Coates said £50,000 had been raised in just three weeks.
Thousands of cinema-goers are being asked to invest £150 each so the Lonsdale can be run as a co-operative.
Graves (Cumberland) originally said the cinema would close on 3 March, but the deadline has been extended until the end of April.
Ms Coates said at least 5,000 "shares" would need to be sold to raise the money needed to buy the cinema.
She said: "In three weeks we have set up a steering group, commissioned a feasibility study and set up a bank account.
"We have also made a business plan and had a survey done. We have also set up an information and donation centre and had three rallies.
"We've done all this, so there is no telling what we will be able to do over the next 75 days."
Almost 3,000 people signed a petition earlier this month when the campaign was launched.
It was signed by actor Richard E Grant and comedian Eddie Izzard.
A statement from Graves (Cumberland) said every effort had been made to make the bingo hall a success but this had failed and resulted in a knock-on effect on the cinema.
Related Internet Links
The BBC is not responsible for the content of external sites.